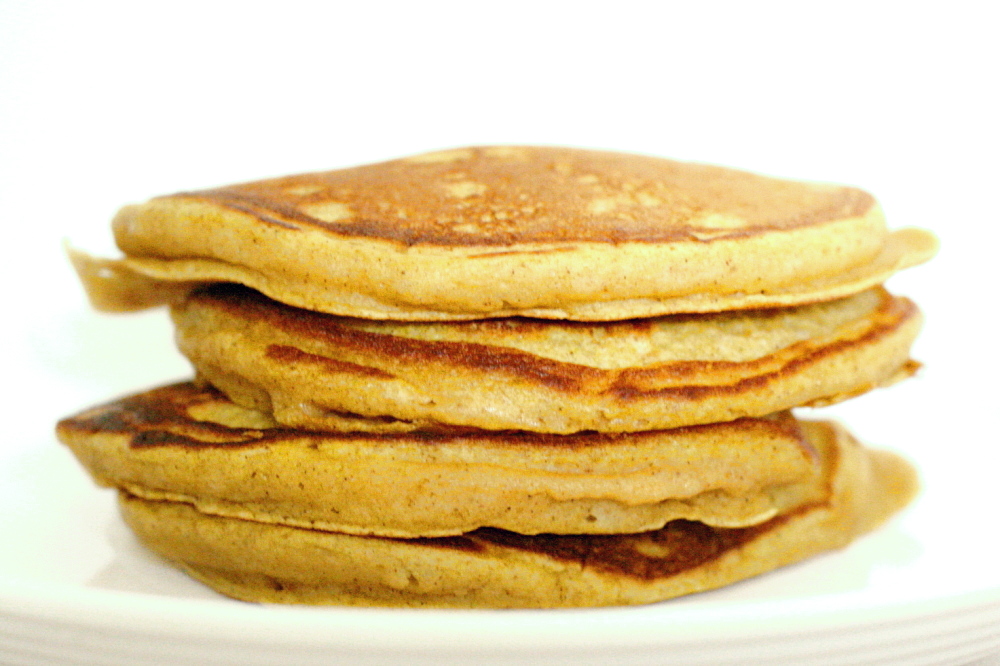 Last year I introduced you to pumpkin biscuits – and I hope you tried them and loved them. This year I bring you pumpkin pancakes from Jenni's* kitchen. I can tell you with confidence that I would eat ANYTHING that came from Jenni's kitchen, but pumpkin pancakes? How can you resist?
Can you imagine how happy your husband or your children or your roommate would be to find these on their plate on Halloween morning? Or perhaps you'll serve them for an easy pre-trick-or-treating dinner?
As for me, I'm plotting a leisurely Sunday morning with a mug of steaming coffee, a stack of these, and a copy of the NY Times. Heaven.
* Who's Jenni you ask? Why, Nourish's very own Jenni Cox of course! The woman behind much of our fabulous new fall menu for Nourish@Home! Check it out…
Pumpkin Pancakes
Ingredients:
2 cups flour
1 tablespoon baking powder
1 teaspoon ground cinnamon
1/4 teaspoon ground ginger
1/4 teaspoon nutmeg
2 tablespoons brown sugar
1 teaspoon salt
1/2 cup canned pumpkin
2 tablespoons canola oil
1 1/2 cup milk
1 egg
Directions:
1. Combine dry ingredients in a large bowl.
2. In a small bowl combine milk, pumpkin, egg, and oil. Stir liquid mixture into flour mixture until combined. Batter will be thick.
3. Heat griddle over medium-high heat. Spray with cooking spray. Pour 1/4 cup batter onto griddle and cook until surface appears dry. Flip and cook for another 2 to 3 minutes.