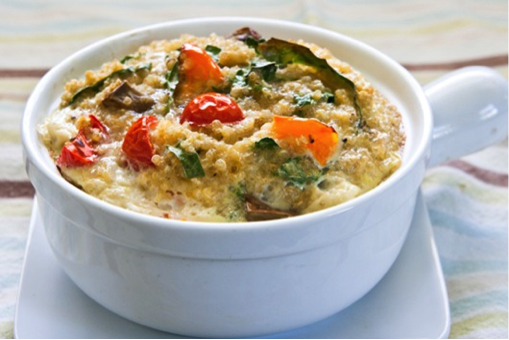 On Christmas morning, when the littles awaken at the crack of dawn, and the focus is on gift opening and hot coffee, you want something warm and nourishing you can pop in the oven without a lot of fuss. This twist on an egg casserole is just the thing to fuel you for a day of playing with new toys and celebrating with family and friends. You can prep everything the day before so that you just have to pop it in the oven when you turn on the coffeepot!
Quinoa Egg Breakfast Bake
Ingredients:
2 cups cooked quinoa
1 cup diced ham
2 cups baby spinach leaves, sliced
1 cup diced fresh tomatoes
1/2 cup diced sweet onion
1 cup diced green pepper
1 1/2 cups shredded mozzarella cheese
12 large eggs, whisked
1/2 cup shredded mozzarella cheese
Directions:
1. The day before:  Cook quinoa according to package directions and cool. Mix cooled quinoa and next  6 ingredients in a 9X13 baking dish sprayed with cooking spray. Cover with plastic wrap and store in refrigerator. Whisk eggs in a bowl and store separately in refrigerator.
2. The morning of: Preheat oven to 375 degrees F. Uncover baking dish and pour whisked eggs over the top. Stir to combine (it will not be really wet since there's no milk mixed with the eggs). Sprinkle with remaining 1/2 cup of cheese.
3. Bake for 30-45 minutes, or until golden brown and a knife test comes out clean. Scoop cooked casserole into bowls to serve.
4. If there are leftovers, reheat a serving in a glass bowl in the microwave on 50% power in 30 second increments till hot.