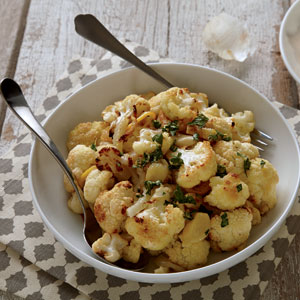 Last night after soccer practice, I asked my 9-year-old if she needed a snack, and she asked for the leftover cauliflower. You can't make this stuff up.
To keep things balanced, her 4-year-old sister asked for ice cream, so don't give us too much credit!
If you're wondering what would make a perfectly sensible child choose cauliflower as her snack, it may or may not have a little something to do with this recipe…
By the way, fennel has a very distinctive anise flavor (like mild black licorice). If this isn't your thing, just skip the fennel altogether and add a little extra cauliflower, or even some baby carrots, to the roasting pan.
Roasted Cauliflower and Fennel with Cider Vinaigrette
Loosely based on a recipe from Cooking Light
Serves: 6

Ingredients:
6 cups cauliflower florets (about 1 large head)
1 cup sliced fennel (from the bulb)
1/4 cup + 2 Tablespoons olive oil
1 tablespoon chopped fresh fennel fronds
2 Tablespoons apple cider vinegar
2 teaspoons Dijon mustard
1 teaspoon honey
1/4 teaspoon kosher salt
1/4 teaspoon freshly ground black pepper
Directions
1.  Preheat oven to 400. Arrange cauliflower and fennel on a rimmed baking sheet and drizzle with 2 tablespoons of olive oil. Toss to coat. Roast for about 15 minutes until just tender and transfer to a serving bowl or platter.
2.  While vegetables roast, combine remaining 1/4 cup olive oil and rest of ingredients in a bowl, stirring with a whisk.  Drizzle over cooked vegetables before serving.