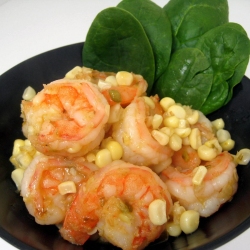 My kids are on a shrimp kick (lucky me!) so I've been looking for some new recipes to keep us out of a rut. Sometimes all it takes is a fresh combination of familiar ingredients with a little something to add depth of flavor. This recipe for shrimp with corn relish crossed my path and I couldn't wait to try it – lime + jalapeno + garlic/shallots + cilantro = yum! I served this over brown jasmine rice, but you could easily pour it over a bed of steamed spinach if you want an even lighter meal. Let me know what you think!
Sauteed Shrimp with Corn Relish
4 servings (about one cup each)
Ingredients
1 1/2 tablespoons fresh lime juice
1 tablespoon fish sauce
1/2 teaspoon sugar
2 tablespoons peanut or canola oil
1/2 cup minced shallots
1 tablespoon minced garlic
1 tablespoon minced jalapeno pepper (about one small)
1 1/2 pounds peeled and deveined medium shrimp
1 1/2 cups fresh or frozen corn kernels (about 3 ears) (thawed if frozen)
1/4 cup chopped fresh cilantro
Directions
1.  Combine first 3 ingredients; set aside
2.  Heat a 14-inch wok or large nonstick skillet over high heat.  Add oil to pan, swirling to coat.  Add shallots, garlic, and jalapeno; stir fry 30 seconds or just until shallots begin to brown.  Add shrimp; stir fry 3 minutes or until shrimp are done.  Add corn; stir fry 1 minute or just until corn is heated.  Stir in juice mixture; sprinkle with cilantro.