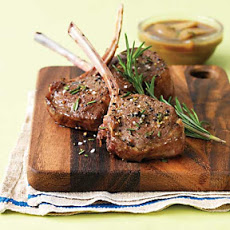 As April unfolds and Easter nears, I'm gathering some recipes you may want to add to your holiday table. When it comes to the main course, there are two dominant options – ham and lamb. In my family, ham is the winner.
Lamb has a symbolic role in the holiday.  "The roast lamb dinner that many eat on Easter Sunday goes back earlier than Easter to the first Passover of the Jewish people. The sacrificial lamb was roasted and eaten, together with unleavened bread and bitter herbs in hopes that the angel of God would pass over their homes and bring no harm. As Hebrews converted to Christianity, they naturally brought along their traditions with them. Christians often refer to Jesus as The Lamb of God. Thus, the traditions merged.*"
It appears the origin of a long-standing ham tradition is more practical. "Animals were slaughtered in the fall. There was no refrigeration, and the fresh pork that wasn't consumed during the winter months before Lent was cured for spring. The curing process took a long time, and the first hams were ready around the time Easter rolled around. Thus, ham was a natural choice for the celebratory Easter dinner.*"
So with that as backdrop, I'm countering my own tradition (sorry, Mom) and offering up this seared lamb chop as a possibility for your Easter dinner. I have a hard time settling on just one set of options for side dishes, but I think I'd start with asparagus and fingerling potatoes – so perfect for spring!
 * About.com
Seared Lamb Chops with Balsamic Sauce
adapted from Cooking Light
Serves: 4
Ingredients:
2 teaspoons olive oil
8 (4-ounce) lamb loin chops, trimmed
1/2 teaspoon kosher salt
1/4 teaspoon freshly ground black pepper
1 cup finely chopped red onion
2 garlic cloves, minced
1/4 cup dry red wine
1/3 cup fat-free, lower-sodium beef broth
2 tablespoons balsamic vinegar
Sprigs of fresh rosemary (optional)
Directions:
1. Heat the oil in a skillet over medium heat. Add a dash of salt and pepper to the lamb chops and then add the chops to the skillet. Cook for 3 minutes on one side and about 4 minutes on the other side until done.
2. While preparing the sauce, remove the lamb chops to a plate and tent to cover.
3. To make the sauce, add the minced onion to the skillet and cook until the onion is tender. Add the garlic and swirl till fragrant.
4. Add the wine, bring the mixture to a boil, and cook until the wine has mostly evaporated. Add the broth and vinegar and bring the mixture back to a boil for two minutes.
5. Pour the sauce over the lamb chops to serve. Garnish with fresh rosemary sprigs.