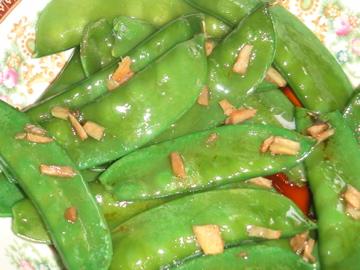 I'm always telling people to eat more vegetables,  so I often get asked what they should do to make them more interesting. The fact is, plain frozen broccoli tastes like, well, like plain frozen broccoli and that's not exactly something anyone wakes up dreaming about!
I think of vegetables as a canvas and to build upon using low calorie ingredients that pack a big punch of flavor and aroma. This dish is a perfect example – sesame oil, ginger, soy sauce and black pepper transform humble snow peas into something really special!
Try this and watch the veggies disappear from everyone's plates faster than you can defrost that package of frozen broccoli.
Snow Peas with Ginger

Yields 4 servings
Ingredients:
1 1/2 teaspoon dark sesame oil
3 cups fresh snow peas, ends trimmed (about 8 ounces)
1 teaspoon minced pealed fresh ginger
2 tablespoons low-sodium soy sauce
1/8 teaspoon freshly ground black pepper
Directions
1. Heat oil in a large non-stick skillet over medium high heat.  Add snow peas and ginger; saute 3 minutes.  (You will DIE over how amazing this smells!) Remove from heat; stir in soy sauce and black pepper.