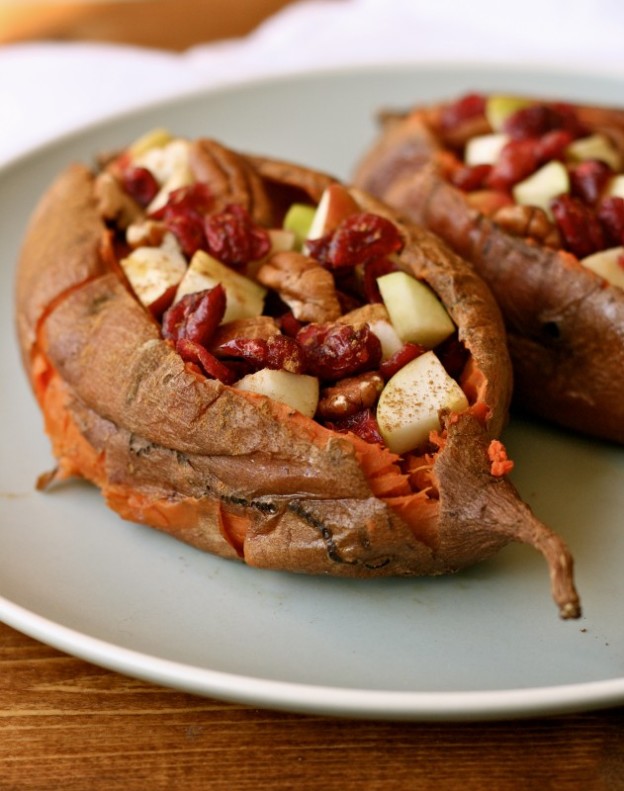 Here's a fun idea for a winter lunch, a hearty afternoon snack, or maybe even dessert. You can't beat a sweet potato as a satisfyingly filling sweet dish and this vegan version is an amazing riff on a twice-baked potato. The potato is baked and then the insides are mashed with coconut milk before being re-stuffed into the skin and topped with diced apple, dried cranberries and toasted pecans. Dust the whole thing with a little cinnamon and dig in. Delish.
Stuffed Sweet Potatoes
Adapted from Jessie Monds
Serves: 4
Ingredients:
4 individual sized sweet potatoes or yams
Olive oil
1/4 cup light Thai coconut milk (canned)
1/3 cup toasted pecans
1/3 cup dried cranberries
1 large crisp apple (Honeycrisp is ideal), cored and diced
Cinnamon, as garnish
Directions:
1. Preheat your oven to 400 degrees F.
2. Scrub the sweet potatoes, dry, poke them with a fork all over, and place them into aluminum foil with a sprinkle of oil and salt. Wrap and roast for approx. 50 minutes.
3. After they have cooled, remove from foil and slit down the middle lengthwise.
4. Spoon out most of the insides of the sweet potato.
5. Mash the insides with coconut milk, salt, and pepper. Replace the insides.
6. Reheat the potatoes at 350 degrees F to warm them.
7. Remove and top with dried cranberries, pecans, and apples with a dash of cinnamon on top.